More power to make a difference
Not sure why your cause needs an app? Here are some points that are helping charities to engage more supporters and build better relationships with their current donors.
Why you need this App
We believe there is no other app specifically aimed to allow an easy two-way communication between a charity and its supporters.
Increase revenue from donations with instant donation buttons placed in strategic places.
Guarantee 100% of your social media posts.
Free Push Notifications (like SMS) via your app – use for sudden changes, appeals, events or news.
Showcase your stories, photos and achievements in real time, whilst allowing users to comment and share their photos directly from your fundraisers or events.
Provide your supporters with 24/7 accessibility to your charity - builds stronger supporter engagement and retention.
We don't charge an additional service fee for donations.
Share exposure with your local supporters and business partners, become the hot-spot of your local community.
Advertise your events & fundraisers, get RSVP from those going. Helps your admin team to calculate costings and logistics etc.
Reduce your costs immediately on mailing, advertising or printing and at the same time increase your messaging potential and delivery.
Potentially you can have this app for free with zero running costs.
Not sure why your cause needs an app?
The right time, the right place
People generally don't like being approached on the street, at the shopping Mall or called by telephone this interruption feels like an invasion of our time and personal space.
Donations are sometimes being given with the feeling of duty or embarrassed to say "No".
Your mobile App has a faceless contact and is available at the moment your supporter wants to interact.
What did you do before breakfast?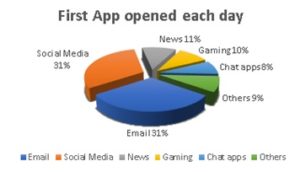 What did you do before breakfast? - Social media and emails are the most frequently used apps on a smartphone, 46% of Americans check their devices before they even get out of bed each day. Imagine your message read before starting our busy day, the chance to watch your video or a have that "like" or "share" added to your news and social media posts. Your app can be your supporters first share and engagement of the day.
Source: 2016 Donor Loyalty Study
Shout about it, Share it and Like It
Donors and supporters want to hear about your success, read about your progress and see what you have been accomplishing.
With so many media channels available you are spoilt for choice for where to publish, our App will place all your channels into one delivery point.
A donor will share at least once your positive result, depressing stories get shared on average 5 to 1, keep your news about your successes.
Preferred Giving Channels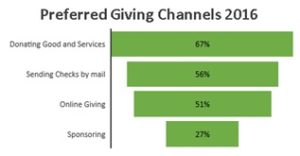 Donations are given when your donor feels for your cause and celebrates your successes, they want easy quick methods that are almost effortless, with our App they can donate instantly no need to wait to write a check and post it. 20% of US smartphone users already pay via a mobile payment service.
Source: ReportLinker
Find out how we can make your life easier by calling (321) 234-2627